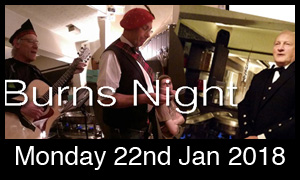 Please sign-up ASAP
Dear GH3 Hashers and friends,
We have once again secured The Albany pub as the venue for the traditional GH3 Burns Night hash bash on 22 January 2018. This event as always takes place after the hash run.
Address: The Albany, 80 Sydenham Road, Guildford GU1 3SA.
To 'sign up':
Please RSVP to Bugs Bunny j.newcombe07@outlook.com, and copy to Camping Gaz gazmorris@gmail.com ASAP (by Monday 15th January) as we need to give the chef notice of the numbers. Please make payment to GH3 bank account  09- 01- 28, 81495440 , reference "Burns" and confirm your booking by email, if you do not have online banking we will take payment in advance in cash on the 8th and 15th.
The price remains at £10 per head for paid up GH3 members and their partners, and £15 for NON-members.
Please don't use GH3 facebook page as your reply as it will get lost in all the excitement to book your place.
Event takes place after the run so meet at The Albany approx 8.45pm for prompt 9pm start.
The meal will be: Haggis, Mashed Potato and neeps, gravy and yes we can confirm that we will also include the first drink at the bar. If you are a vegetarian please make that clear on your email AND NOTE The vegetarian option will be veggie haggis only.
By replying to Bugs Bunny j.newcombe07@outlook.com  to say that you would like to come, then you are agreeing to pay £10 (member) or £15 (non member) towards the cost of the meal. If you need to cancel we will do our best to fill your place in order to refund your money.
Hash Dress Optional: Anything Tartan!
Hash Entertainment: Please make yourself known to us in advance.
Toast to Lassies = Poolah and Reply to the Laddies = Dr Pussy
Maximum numbers 50 (which will mean we will be sitting cheek to cheek)We will post a list of all confirmed payments by the 18th Jan.
ON ON
Bugs Bunny and Camping Gaz
A Taster of Robert Burn's Poetry!
Nine Inch Will Please a Lady
(Robert Burns)
Come tell me dame, come tell me dame,
My dame come tell me truly,
What length of tool when used by rule
Would serve a woman duly?"
The carlin clew her wanton tail,
Her wanton tail sae ready,
"l learn'd a sang in Annandale,
Nine inch will please a lady."
But for a countrie cunt like mine,
In sooth we're nae sae gentle;
We'll talk' twa thumb-bread to the nine,
And that's a sonsie pintle.
O leeze me on my Charlie lad!
I'll ne'er forget my Charlie!
Twa roarin' handfuls and a daud,
He nidg't it in fu' rarely.
But wear fa' the lazy rump
And may it ne'er be thriving,
It's not the length that makes me loup
But it's the double drivin.
Come nidge me Tom, come nidge me Tom
Come nidge me, o'er the nyvel
Come lowse an lug your battering ram
And thrash him at my gyvel!