Midsummer Nightmare 2019

Arrive Friday afternoon/evening or Saturday morning
Kick-off is 11:15:14 precisely
Distance 14-18ish miles with route choices, good watering holes, stunning scenery and steam trains. The famous GH3 BBQ on Saturday evening, including Hogs Back & Little Beer Company beer, decent wine and soft drinks. Bacon and egg butties on Saturday morning and full English on Sunday. For those arriving Friday, we break open the beers and normally arrange a fish&chip take-away at £TBA.
Cost for the food, beer and wine et al….
£TBA pp members and partner (children under 10 free)
£TBA pp non-GH3members
Additional costs on the day include camping £10-00pp per night payable directly to the campsite (reference GH3) and pie/beer money for the watering holes on the run. We do it this way to allow maximum personal flexibility.
Event booking and details to be announced late 2018/early2019.
Thank you
Based at Woodyhyde camp site, the route takes in some of the most spectacular scenery around the Purbeck coast. The full run distance is around 14-18 miles, but there are many shortcuts and long-cuts to be taken. A4 maps are handed out before the run.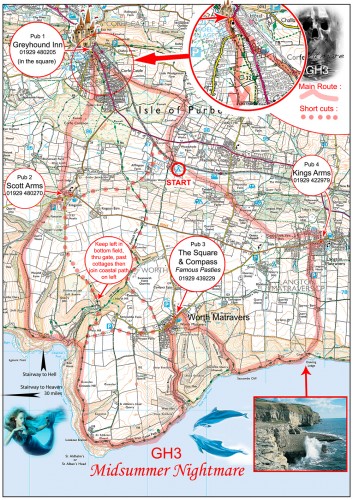 Directions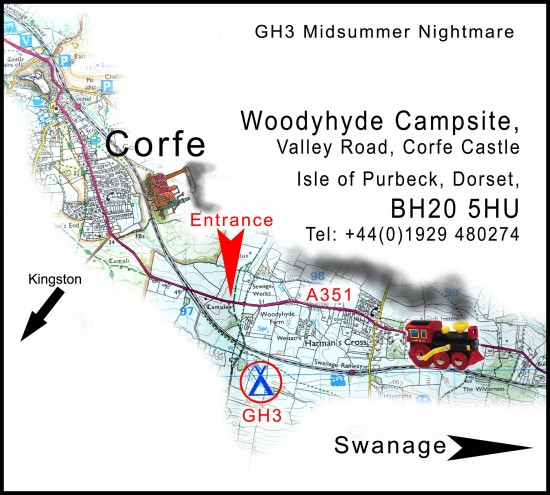 Wally at the halfway point